2020 ARCO Newsletter-President's Message
Dear ARCO members/friends:
Hope this message finds you well and healthy. 2020 has been a year of tremendous challenge due to the COVID-19 pandemic. However, you have not wavered in your commitment to support and contribute to ARCO while continuing to provide the highest standard of orthopaedic care to your patients in a safe, ethical, and effective manner. Thank you for being a part of this remarkable ARCO family.
Members' safety is the top priority of the Board. After careful discussion and planning, the ARCO board decided that the planned ARCO biennial meeting in Korea, in May 2021, will be postponed to 2022 due to the ongoing COVID-19 pandemic and recent surge of infected cases. The new meeting dates and agenda will be emailed to all members as soon as it is available. We are planning to organize small virtual meetings in 2021 to discuss ongoing ARCO research projects and recent advances in diagnosis and treatment of osteonecrosis.
Spearheaded by Dr. Edward Cheng, the first past president of ARCO, the board and the working group continue to develop evidence-based clinical practice guidelines for osteonecrosis of the femoral head. For more information, please go to: https://sites.google.com/umn.edu/arcocpg/home
The other project, prognostic value of size and location of osteonecrosis, let by Drs. Kyung-Hoi Koo and Quanjun Cui, is going well. Evaluation of radiographic images and data analysis are done. The manuscript is in preparation.
As you may already know, the membership online payment link is working and many of our members had paid their membership dues using the link at the ARCO web page (https://www.arco-intl.org/). Thanks to Dr. Lynne Jones for her tireless efforts with many phone calls and negotiations to get it done! We will continue to work with our current web management company to improve the web site and make it more user friendly.
We understand that working together as a team is the key to success. As the elected President of ARCO, I promise to work hard on our members' behalf and interests. We will continue working with our members to encourage, coordinate and undertake clinical and basic research in the field of bone circulation and osteonecrosis, to initiate and keep an international dialogue alive among experts in the field of bone circulation and osteonecrosis.
Finally, I would like to take this opportunity to wish you and your family health and peace during this unprecedent time and a bright new year full of hope, love and prosperity.
Quanjun Cui, MD
President
ARCO-International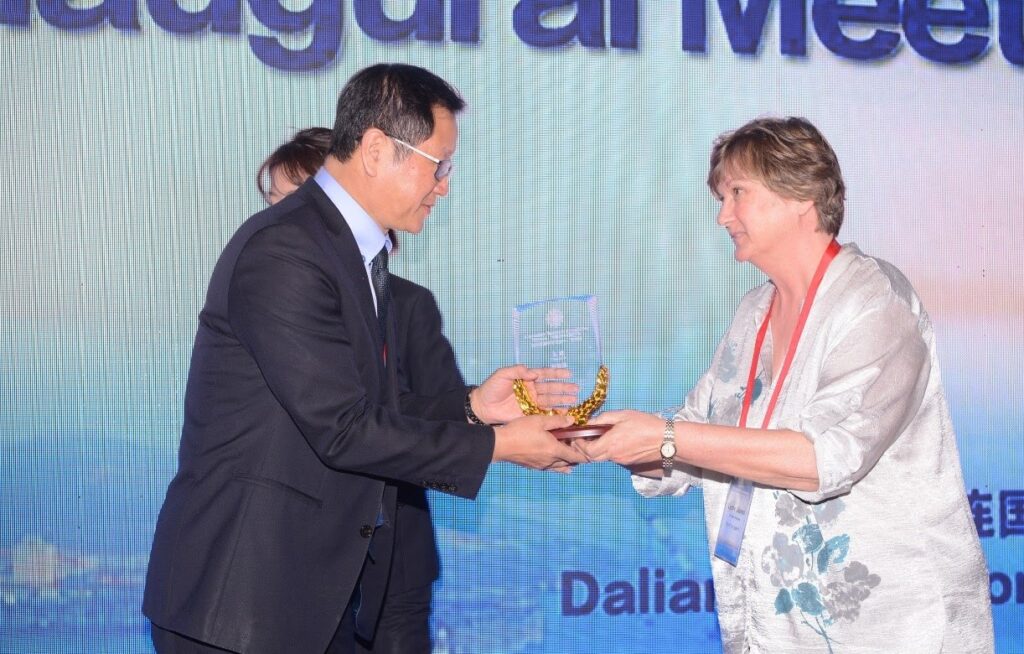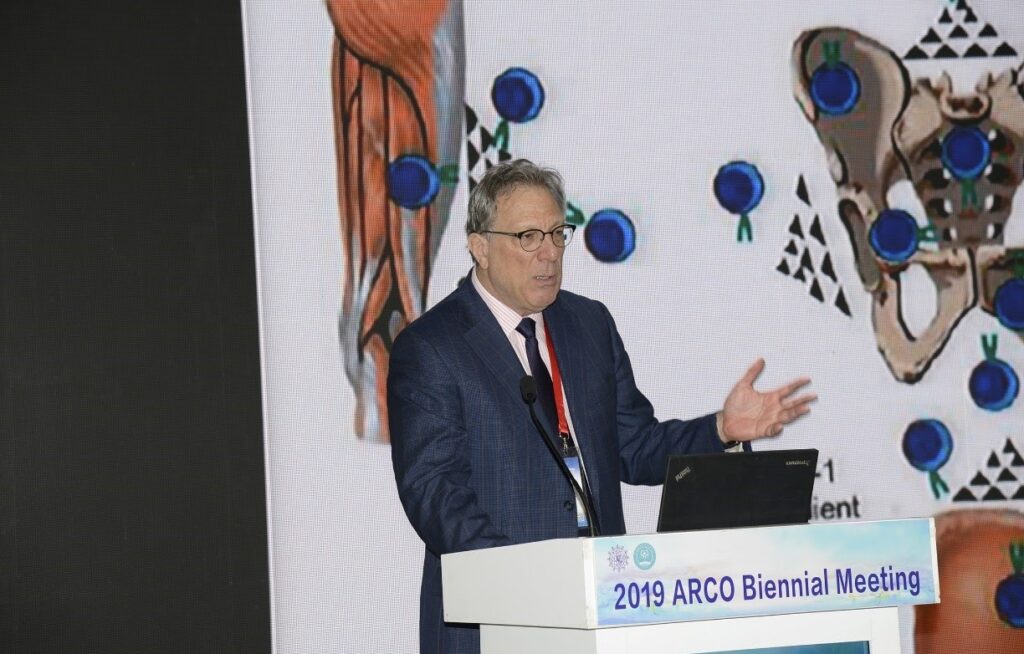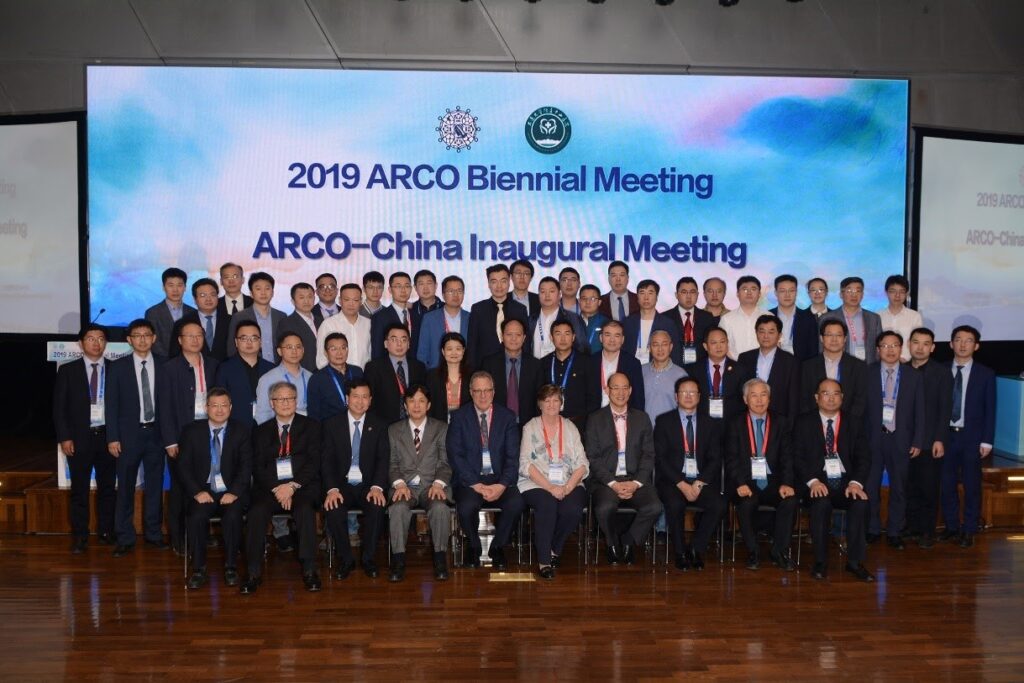 The ARCO Board of Directors would like to thank everyone who attended the ARCO 2019 Biennial Conference that was held at Dalian International Conference Center, Dalian, China from May 2-5, 2019. The Conference was a huge success with over 250 attendees and more than 200 presentations and posters. We hope that everyone enjoyed the presidential guest lectures, plenaries, poster sessions and network receptions. We especially want to thank our keynote speakers, moderators, speakers and poster presenters.
ARCO recognizes the significant contributions of Chinese colleagues to the field of bone circulation and osteonecrosis, and one of our goals in our strategic plan was to increase our membership from China. Therefore, the 2019 Biennial Conference was the first time being held in mainland of China, organized by our Vice President of ARCO – Dr. Dewei Zhao, who indeed was a great host and provided all needed help to make the conference run smoothly and successfully. Thanks to Dr. Zhao and his team!
At the meeting, the new ARCO board members were elected:
President: Edward Cheng, MD
President-elect: Quanjun Cui, MD
First Past President: Wolf Drescher, MD, PhD
Secretary-Treasurer: Shin-Yoon Kim, MD
Vice-President-Asia: Yong-Chan Ha, MD
Vice-President-China: Dewei Zhao, MD
Vice-President-Europe: Philippe Hernigou, MD
Vice-President-Japan: Nobuhiko Sugano, MD
Vice-President-USA: Stuart B. Goodman, MD, PhD
Executive Director: Lynne Jones, PhD
The next ARCO biennial meeting will be held in Korea in 2021. We will look forward to seeing you all there. For more information, please visit: https://www.arco-intl.org/